Prenatal Yoga 2023 Extension Course
At Bliss Baby Yoga we are  internationally recognised for our gold standard Prenatal and Postnatal Yoga Teacher Training courses and ongoing professional development. We are constantly in a process of refreshing and updating our current courses and so would like to share this new content with those that have previously trained as Prenatal & Postnatal Yoga Teachers.
This Prenatal Yoga 2023 Extension Course is exactly that – the opportunity for established teachers to have access to new content that will help you keep your teaching up to date, fresh and inspired!
Not only does this course refresh your knowledge but it will also deepen your understanding. Several of these lectures are with well regarded midwife and lecturer Valerie Hamilton (R.N,R.M, M.Mid, Grad. Dip.Health Research, IYTA) going deeper into the changes within the body during pregnancy. New class videos incorporating the various challenges of teaching Prenatal and Postnatal yoga will inspire you while you'll have those specific teaching questions around teaching those with pregnancy related issues answered.
This is the first of our courses to invite in-course discussions so that while you are studying you can connect with us and also other yoga teachers who are doing this course at the same time as you. We hope you enjoy this greater sense of community and support while you study at home.
This extension course comprises of:
A Four Part Lecture Series with midwife and lecturer Valerie Hamilton : a series of in depth video lectures on the physiology of pregnancy and changes within the four trimesters, going deeper than our previous audio lectures;
Three practical classes that incorporate how to teach a Prenatal class of mixed trimesters and pregnancy issues, using a chair in Prenatal Yoga classes and bonus content – a new Postnatal class incorporating babies!
An updated look at how to safely teach those with SIJ issues, Sciatica, SPD and more;
An in depth lecture on the female Pelvic Floor and challenges to this area during pregnancy and birth;
Clarification around how and when to teach pelvic floor exercises and how  this works with the breath.
While you don't need to be a Bliss Baby Yoga graduate to do this course, if you are, we suggest that you only enrol in this course if you graduated prior to April 2022, as some of these videos have been included in the training since this time.
This course comprises of a total of 5.75 hours of video footage and class plans as follows:
Physiology of Pregnancy Lecture Series
Lecture 1: The First Trimester (34 min)
Lecture 2: The Second Trimester (17 min)
Lecture 3: The Third Trimester (15 min)
Lecture 4: The Fourth Trimester (26 min)
Prenatal Yoga Teaching 
Prac: Using a Chair in Prenatal Yoga Classes (35 min) + class plan
Prac: Accommodating students of mixed stages and issues in a Prenatal Yoga Class (75 min) + class plan
Lecture: Prenatal Yoga Therapy (42 min) + sample new student intake sheet
Lecture: The Female Pelvic Floor (23 min)
Talk & Prac: Demystifying Pelvic Floor Work in Prenatal Yoga and it's Connection with the Breath (9 min)
Lecture: Diastasis Recti and How to Support in a Yoga Class
BONUS Content!
Prac: Postnatal Yoga with Baby Class (54 min) + class plan
You do not need to have completed the Bliss Baby Yoga Prenatal Yoga Teacher Training to complete this course however this course does not cover all content in our original Prenatal TT course. If there is reference to certain posture groups then we have provided the postures for these groups only. This course will not give you all the information you need to teach Prenatal Yoga – it is for those who have done a full Prenatal Yoga Teacher Training (with us or elsewhere) previously who wish to renew/refresh their knowledge.
A Completion Certificate is available for download once you've completed the course . The total course hours on this completion certificate is 8 non-contact hours and can be used toward continuing education points for Yoga Alliance and Yoga Australia.
Members of both Yoga Alliance and Yoga Australia are required to complete ongoing professional development to keep their membership current. By completing our Bliss Baby Yoga Online Extension Modules, teachers are able to accrue some of these necessary professional development hours as well as enhance their knowledge and skills in this specialised area of women's health.
(The following information re: Yoga Australia and Yoga Alliance requirements for CPD was true at the time of publishing – please check the Yoga Australia and Yoga Alliance websites via links below to confirm their requirements).
For Yoga Australia members, 12 CPD points (Continuing Professional Development) must be accrued each year to keep your membership active. These can be accrued through contact or non-contact hours of study. Our Online Fertile Bloom Program is counted as non-contact study core to yoga teaching (2 points per hour as per Yoga Australia Guidelines). This Online Extension Module is 8 hours, so Yoga Australia members will accrue 4 CPD points.
For Yoga Alliance members, according to their Continuing Education Requirements, every 3 years starting from your initial date of registration, each RYT and E-RYT must complete and log a minimum of:
45 hours teaching yoga, and
30 hours of yoga related training that is directly related to one of the Educational Categories, of which:
PLEASE NOTE This course is not alone designed to qualify graduates to teach Prenatal yoga classes.
Read more about accreditation here.
This course contains ten videos that you can work through in your own time.
All lessons are pre-recorded and downloadable for you to watch in your own time. We suggest you take notes and ask that you practice the practical sessions twice. You must reach the end of all videos to enable you to progress to the next one.
You have the opportunity to interact with our new community via "Discussions" during the course – posting questions or comments within the course that both ourselves at BBY and other students doing the course can read and respond to.
At the end of the course there is a quiz where you will need to have a pass mark of 80% to complete the course. Do not fear! You will have the chance to retake the quiz if you don't achieve this mark.
You'll then be asked to fill out our feedback form before reaching your Completion Certificate.  You will then be able to download your certificate from the course straight away!
For answers to Frequently Asked Questions about this course, delivery and accreditation, please see below
Does this extension course certify me as a Prenatal Yoga Teacher if I have not done any other Prenatal Yoga Teacher Training? No it does not. This course does not cover all aspects of teaching Prenatal Yoga. 
If I trained with Bliss Baby Yoga, why is this course only for those who graduated prior to April 2022? Several of the prac sessions were uploaded in our course during this month so we don't want you to feel that you are purchasing some material you already have.
I currently  am doing/ still have access to the Prenatal and Postnatal Yoga Teacher Training. Can I access this content? These lectures and videos have been uploaded to the current course so you will be able to access them in your account as part of the course.
PURCHASE
Who is this course for?
This course is for any Prenatal & Postnatal Yoga Teachers who want to refresh and deepen their knowledge of Prenatal Yoga Teaching.
You may have been teaching Prenatal Yoga for a long time or perhaps you only graduated a year ago and want to learn more!
This course is also a wonderful precursor to our up and coming online Doula Training as the lectures on the Physiology of Pregnancy serve as sound foundations for the continuation of your learning in the Doula Training.
While this course does not cover all content from the original training, it offers the chance to go deeper into the physiology of pregnancy and update your teaching skills.
NB – Please do not enrol in this course if you graduated from our Bliss Baby Yoga course after April 2022 as you have already accessed the practical components.
Nadine O'Mara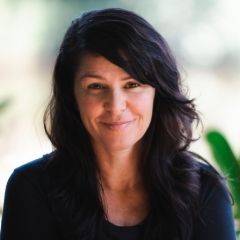 Nadine O'Mara (E-RYT 200, RPYT, YACEP, Yoga Australia Lvl 3 Teacher, DONA Certified Doula, B. App. Sc.) is an experienced prenatal and postnatal yoga teacher, doula, and our Bliss Baby Yoga Director and Online Course Content Manager, who is passionate about supporting women's health, especially around birth.
In addition to sharing her knowledge via our Bliss Baby Yoga online courses and content, Nadine also runs her own business, Conscious Birth. Nadine provides doula support and yoga for women and their partners around Bellingen on the NSW Mid-North Coast. She also offers birth education, self care and restorative yoga workshops for mothers, facilitates mother's circles, family yoga and retreats for women and/or families. She believes that a gentle birth and the creation of a positive family life helps shape a more peaceful planet.
Valerie Hamilton
Valerie Hamilton is a registered nurse/midwife, childbirth educator and a qualified yoga teacher with a Masters of Midwifery and Graduate Diploma in Health Research.
Valerie has lectured in anatomy and physiology, women's health, life science, midwifery and prenatal yoga throughout Australia and overseas, with her most recent lecturing position being at Griffith University, Queensland. She has also presented her qualitative midwifery research on student led antenatal clinics both nationally and internationally.
Valerie has joined the team of Bliss Baby Yoga as our guest lecturer and expert midwife to deliver information on the three trimesters of pregnancy, the fourth trimester (the postpartum period) and the pelvic floor.
She runs her own business supporting Pregnant women at Yoga for Pregnancy, Birth and Beyond.
Kanako Yajima
Kanako Yajima (E-RYT 500, RPYT) has been practicing yoga since 2000 and teaching since 2006. She has been trained in various styles of yoga including Solomon Yogalates, Ishta System with Rachel Zinman, and Vini Yoga & the Five Element Form with Peter Clifford. She has completed a number of Pre & Postnatal Yoga trainings and has been working with pregnant women and new moms since 2010.
Kanako has also worked internationally in many teacher trainings, retreats and workshops as both interpreter (for Japanese groups) and as a teacher trainer.
Thanks to her experience as a yoga translator/interpreter and her dedication to knowledge and growth, she has been immersed in various teachings including yoga philosophy, anatomy & physiology, pranayama and meditation and her versatile and unique teaching styles reflect that extensive knowledge and experience.
Kanako is grateful everyday for being a mother to her daughter as it has been the most challenging yet beautiful and transformational yoga sadhana in life and she loves sharing the magic of yoga practices with students from that heart-felt space.
Kanako is a Senior Course Facilitator for our Bliss Baby Yoga Online Prenatal & Postnatal Yoga Teacher Training course.
I'm currently 37 weeks pregnant and taking this while experiencing pregnancy first hand was so empowering! – Kaelyn (BBY Prenatal Yoga TT)
Purchase Options
Choose from purchase options below —stand-alone or course bundle options
All prices are in Australian dollars and include GST for Australian residents.
Stand-alone:
$99.00 AUD
You receive:
Prenatal Yoga 2023 Extension Course
ENROL
ENROL 2 X $92 PAYMENT PLAN
Prenatal Yoga Continuing Professional Development Bundle
$199.00 AUD
(OR 2 X$100 Payment Plan)
You receive:
Prenatal Yoga 2023 Extension Course
Live Mentor Program for Prenatal & Postnatal Yoga Teachers  (AU$99 special bundle price)
ENROL
2 x $196 PAYMENT PLAN
Register and pay the full course fee. You can pay securely online via Credit Card or PayPal. (Note: that you don't need your own Paypal account, you can pay via 'guest checkout' if you select this option).
Once your payment has been confirmed, you'll receive an email with your log-in details and a direct link to go ahead and log-in. (You can also always log in directly on our website using the "Log In" link in the top right hand corner.)
If this is not your first purchase on our site, you'll receive a reminder email with your log in details for the account you already have with us. Once you log in to the site, you'll be directed to your member page where you can access your course and get started!
(Note: if you have previously purchased other courses or classes with us, you'll be able to conveniently see and access all of your courses here in the member section of the website)
Enjoy the learning!
You can work at your own pace, and because we appreciate that you may be busy juggling teaching, parenting, and/or other work with your study, you have one full year from your date of enrolment to access and complete our courses and download all resources included within the course to keep forever for future reference. Our courses are designed to fit around your busy life.
Navigating your way through the course is simple and easy, but if you have any questions or issues at any time, we are only an email away!
After completing the final quiz you'll be prompted to complete a Feedback Form on the website and then, congratulations! You're done! You will receive your course Completion Certificate that you can either print out or keep digitally to send to registration bodies (eg: Yoga Alliance / Yoga Australia) to gain all-important CPD (Continuing Professional Development Points).