Prenatal Yoga Teacher Training
Our Online Prenatal Yoga Teacher Training course offers a balanced mix of theory and practical exercises providing you with valuable knowledge and tools to teach yoga to pregnant women safely and confidently.
Course Content

Benefits of yoga for pregnancy and birth
Safety Guidelines for pregnant students
Modifying the postures for the various stages of pregnancy
The three trimesters: overview of physiological changes for mum and baby
Postural alignment for pregnancy
Working with props for pregnancy
Restorative Yoga for pregnancy
Sequencing and the 5 Prenatal Posture Groups
Yoga Nidra and Visualisation for pregnancy
Partner Yoga for pregnancy
Benefits & applications of squatting and pelvic floor toning during pregnancy
Sounding/Chanting for pregnancy and birth
Special sequences for pregnancy: 'Pregnancy Pawanmuktasana' & 'Pregnancy Salute to the Sun', and sample classes (stabilising & restorative)
Applied Anatomy for prenatal yoga: back or pelvic problems & other common complaints
Overview of Stages of Labour and Birth
Yogic tools for labour
Active Birth and Yoga
This comprehensive online course contains a multi-media 'bag of goodies' including a stimulating mix of video, audio and written materials:
Online Prenatal Yoga Teacher Training course

Bliss Baby Prenatal Course Manual (PDF format) – includes detailed diagrams, extensive notes, and references
4 x 1.5-hour audio lectures
1.5-hour video lecture: Stages of Labour Demo & Birth Discussion with Anna Watts and Ana Davis
1.5 hour Prenatal Yoga Class video (focusing on Group 3 Stablising Postures)
1 hr 20 min Prenatal Restorative Yoga Class video
A prenatal Salute to the Sun video
A therapeutic Pregnancy Pawamuktasana video
Yoga Nidra & Birth Visualisation audio (by Childbirth Educator and Bliss Baby Yoga Facilitator, Anna Watts)
2-hour video lecture: Interventions During Labour with Anna Watts
45-minute Video Call Mentoring Session with a Bliss Baby Yoga course facilitator to discuss feedback on major Case Study Assignment and any outstanding questions.
Your details, should you wish, including your business name and website will be listed on our "Find a Bliss Baby Yoga Teacher" Directory
Please note – the following books are recommended additional reading for this course (but not essential) and are not included in the course fee.
"New Active Birth", Janet Balaskas, Thorsons, 1989 (all about active natural birthing but also a substantial instructional section on prenatal yoga)
"Relax & Renew, Restful Yoga for Stressful Times", Judith Lasater, Rodmell Press, 1995 (particularly chapter on Restorative Yoga for pregnancy)
A Completion Certificate (PDF electronic file) is provided once you've completed the course. The total course hours on this completion certificate is 40 non-contact hours.
Members of both Yoga Alliance and Yoga Australia are required to complete ongoing professional development to keep their membership current. By completing the Bliss Baby Yoga Online Prenatal Yoga Teacher Training course, teachers are able to accrue some of these necessary professional development hours as well as to gain the all-important knowledge and skills to launch them into this specialised area of women's health.
(The following information re: Yoga Australia and Yoga Alliance requirements for CPD was true at the time of publishing – please check the Yoga Australia and Yoga Alliance websites via links below to confirm their requirements).
For Yoga Australia members, 12 CPD points (Continuing Professional Development) must be accrued each year to keep your membership active. These can be accrued through contact or non-contact hours of study. Our Online Prenatal Yoga Teacher Training course is made up of non-contact hours of study, however as our course includes an assessment component (final case study assignment), for Yoga Australia members (as per their Continuing Education Policy) the hours spent completing our course are counted as contact hours, core to yoga teaching (1 point per hour). The Bliss Baby Yoga Online Prenatal Yoga Teacher Training course is 40 hours, therefore Yoga Australia members will accrue at least 40 CPD points.
For Yoga Alliance members, according to their Continuing Education Requirements, every 3 years starting from your initial date of registration, each RYT and E-RYT must complete and log a minimum of:
45 hours teaching yoga, and
30 hours of yoga related training that is directly related to one of the Educational Categories, of which:
Our 40 hour Online Prenatal Yoga Teacher Training course (non-contact hours) can therefore meet the 20 non-contact hours requirement.
At the end of the course we will also include you on our online directory of qualified pre/postnatal yoga teachers.
FAQ: Is this course registered with Yoga Alliance?
While there isn't currently a facility for this online course to be registered with Yoga Alliance, our school and teachers are. Bliss Baby Yoga is a Yoga Alliance RPYS (Registered Prenatal Yoga School), and our lead teacher Ana Davis is a YACEP (Yoga Alliance Continuing Education Provider), as well as an E-RYT 500 (Experienced Registered Yoga Teacher with minimum 500 hrs training) and RPYT (Registered Prenatal Yoga Teacher). The certificate of completion presented upon completion of this course will include our RPYS and YACEP registration stamps, as well as a breakdown of the hours per Educational Category for Yoga Alliance continuing education.
FAQ: If I want to be able to teach Prenatal Yoga classes, do I have to already be a qualified yoga teacher to enrol in your online course?
Our Bliss Baby Yoga training courses are designed as post-graduate study for qualified yoga teachers, and are not alone designed to qualify graduates to teach prenatal / postnatal yoga classes to the public if they are not yet a qualified yoga teacher (having completed a minimum Level 1 / 200 hr Yoga Teacher Training).
The prerequisite to enrol in our courses is at least 6-12 months consistent prior yoga practice experience – so that you are familiar with the basic postures / practices / terminology and can therefore gain the most from this training. We strongly recommend undertaking a 200 hr Yoga Teacher Training in addition to our specialised teaching before teaching any public classes, so that you can be insured as a qualified yoga teacher.
FAQ: Can I get RPYT (Registered Prenatal Yoga Teacher) registration with Yoga Alliance by completing the Online Prenatal Yoga Teacher Training course?
Unfortunately Yoga Alliance RPYT (Registered Prenatal Yoga Teacher) certification cannot be achieved through distance or online education, such as our Online Prenatal Yoga Teacher Training course, as there is a requirement of at least 75 contact hours of study (face-to-face training with a certified teacher). Any hours of study completed via distance / online are considered 'non-contact' hours.
Upon completion of our online training, graduates are issued with a Completion Certificate- noting the hours and content completed, and bearing our Yoga Alliance RPYS (Registered Prenatal Yoga School) stamp. This certificate can be submitted for CPD (Continuing Professional Development) points for your Yoga Alliance / Yoga Australia membership.
FAQ: Do the Bliss Baby Yoga online courses certify me to be able to teach in the USA/UK?
Bliss Baby Yoga is registered with the international yoga body, Yoga Alliance, as a RPYS (Registered Prenatal Yoga School) and RYS-200 (Registered Yoga School).
We have had yoga teachers from all over the world complete our online training courses.
Upon completion of our Online training courses, graduates receive a certificate of completion, noting the content, hours, and date of completion, which can be submitted for CPD (Continuing Professional Development) points for Yoga Alliance / Yoga Australia registered teachers.
If you are registered with a particular local or international registration body you may like to contact your association or insurance provider directly to confirm if they recognise internationally based online teacher training – for CPD (Continuing Professional Development) points or otherwise.
Read our responses to further frequently asked questions here.
Read more about accreditation here.
Once you've enrolled and your payment is confirmed, you'll be sent an email with your log-in details to log in to our special student section of the website where you can get started with your course. 

The Online Prenatal Yoga Teacher Training course is easy to navigate—it's all clearly laid out and you don't have to be a 'techy' person to figure it out!
This course consists of 5 modules. Each module consists of a varied and stimulating mix of audio lectures, video-lectures, sample video classes, and accompanying reading from the course manuals. Have your yoga mat (and sometimes other props like bolster, brick) at the ready as there will be practical segments to some of the lectures. The focus of this course is on 'experiential learning' so that you can experience many of the recommended practices yourself.
At the end of each module there are short quizzes (see below under "Course Assessment Requirements") and homework tasks to keep you engaged and ensure you're integrating the information we're giving you, and to help you prepare for the learning to come in the next module.
Course Assessment Requirements
At the end of each module you will be required to complete a short quiz that helps you solidify the learning. An 80% pass mark is required,  but don't worry, the quizzes are multiple choice/ true-false and you can re-do the quiz as many times as you need to.
At the end of the course content you will be required to complete a prenatal 'case study' written assignment. Upload this to the website (very easy) and one of our Bliss Baby Yoga online course facilitators will mark it and be in contact to arrange the final step—your 1:1 Video Call Mentoring Session.
In your Video Call Mentoring Session your Facilitator will give you valuable constructive feedback on your assignments and it's also a great opportunity for you to ask any questions about the course content.
Then, all you need to do is complete our Online Feedback Form (your feedback is soooo important to us!) and you will receive your Completion Certificate that you can either print out or keep digitally to send to registration bodies (eg: Yoga Alliance / Yoga Australia) to gain all-important CPD (Continuing Professional Development Points).
The beauty of this online option of our Bliss Baby Yoga Prenatal Yoga Teacher Training is that you can complete it in your own time, to fit around your other commitments. The total course hours that will be recorded on your Completion Certificate are 40 hours—this is what we estimate it will take you to complete this course, including the homework tasks, background reading and completing your final assignments.
Because we understand that you're fitting this course around other commitments that may include yoga teaching, working, or being a mother, you have 12 months to complete this course, and the information and resources in this course downloadable (yours to keep forever). How you pace your study-load, that's up to you, and what works best for your lifestyle.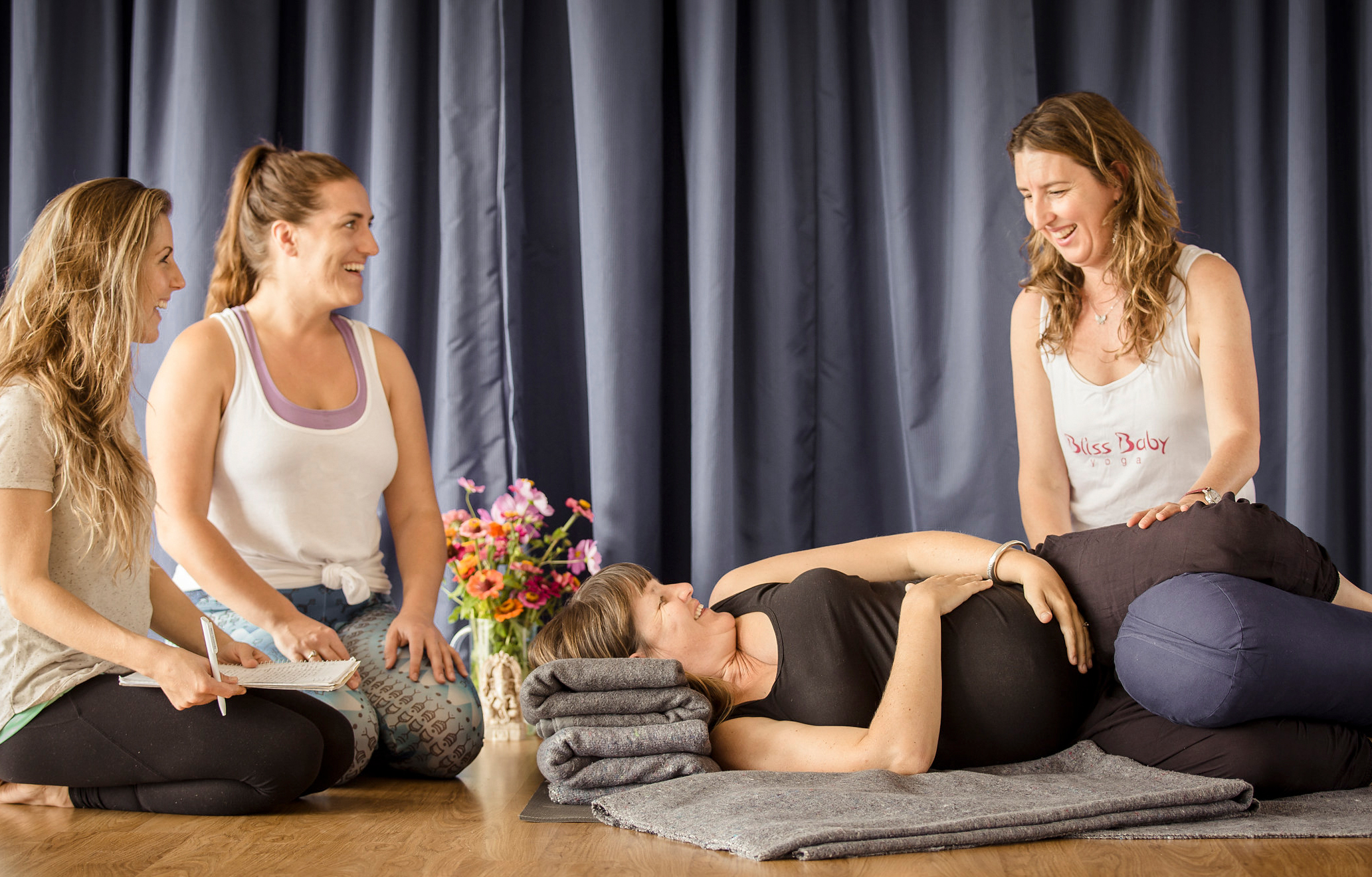 For answers to Frequently Asked Questions about our Online Prenatal & Postnatal Yoga Teacher Training course delivery and accreditation, including the following, please click here.
Do the Bliss Baby Yoga online courses certify me to be able to teach in the USA/UK?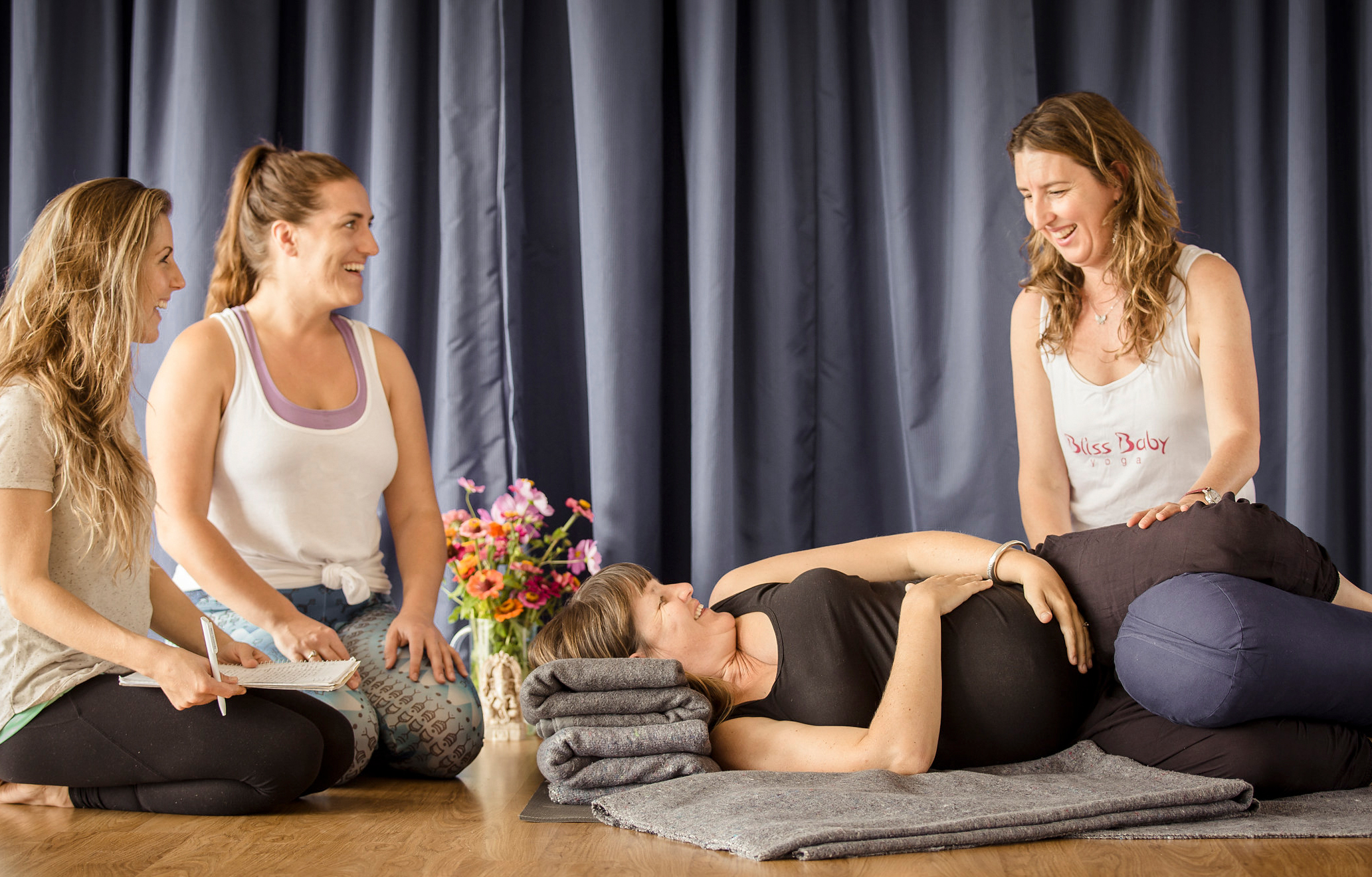 What past course participants say
'I really loved this course. Thank you so much! I was pregnant as I was working through the course so found it so relevant and was able to apply it all straight away. I now have more confidence if a pregnant student comes to one of my general classes, and l look forward to holding Prenatal Yoga classes now too. The online tutorials and the information in the manual were so thorough and well done. I feel there was a lot of information for a small course. The manual has so much valuable practical info that can be implemented straight away into my classes. I found the birth section so helpful and informative for myself personally - it helped so so much with my mindset for my own birth. I also love the Pawanmuktasana series for myself - its just delicious! The online platform was super easy and straightforward to use. It was so well detailed but in language that is easy to read and understand. The different sections were clearly grouped and easy to follow. The assignment was a great chance to put all the learning together and really think deeply about why each pose is chosen. Star was so lovely and easy to chat to during the Skype session, and I felt so comfortable to ask any questions. The details and content were far more than I imagined when signing up, and have added hugely to my teaching - It has really been so helpful for my growth as a teacher and for my own practise / self. Thank you all so much for sharing your knowledge and love to others.'
- Ashlee, New Zealand
'Having a toddler at home, and a second baby on the way being able to learn about prenatal yoga at my own pace was a top priority. The depth that the course goes into and the practical lessons, leaves little room for one to miss an in person teacher training. Thank you to all of the Bliss Baby Yoga team for your time and dedication in putting this course together. I felt this course went into great detail to cover the different issues that arise throughout pregnancy and helped to build confidence within myself in assisting each student in the class room. Job well done on creating a great online course!'
- Jessica, QLD, Australia
'I enjoyed the online course because it enabled me to work at my own pace and offered a variety of mediums to learn from – online classes, videos, articles, audio lectures and the course manuals/handouts. Being pregnant whilst completing the course was a huge benefit to my own personal practice, understanding and becoming more aware and informed of the changes my body was going through. I felt the course was well balanced with the physical, emotional and spiritual sides of a yoga practice and covering the birth process is an invaluable bonus.I feel I have learnt some amazing tools that will assist me in my labour, physically and emotionally.'
- Alison, VIC, Australia
'I researched for a program like this online extensively and was not only pleased, but my expectations were exceeded! I thought since it was online there would be aspects that I would miss from the classroom setting but I didn't. It was practical and accessible. The format was easy to follow and provided quite a few different ways of studying from hands on, listening, practicing with the study, as well as videos provided. I found the homework assignments were amazing because they enabled me to put what I learned into a program. The final case studies were extremely beneficial. It's one thing to study and learn, it's another to take what you learned and design a class. Understanding that certain postures are contraindicated or not is one thing, but designing a class around it is another. It also helped give me a better understanding of what I should be accomplishing. I am extremely pleased with the program as well as the communication and level of experience of the staff. The program layout, expectations, and requirements left me feeling confident with my abilities and I am looking forward to teaching.'
- Dawn, USA / Uzbekistan
'I have been practising yoga for the last 20 years and trained last year as a 200hr teacher, but I feel this course has brought me to a different level in my education, and given me a quiet confidence in delivering my other yoga classes. Thank you so much Ana and team, you are a true gem. So glad I found this training.'
- Karlie, UK
'I enjoyed this Online Prenatal Yoga Teacher Training course very much. I loved that I could do it at my own pace, from home, whilst looking after my baby. I could go back over things I missed, and download all the material to refer back to later when planning classes etc. The materials surrounding the SIJ, Sciatica and Symphysis Pubis Diastasis were the most beneficial to me as I experienced a lot of these issues in my recent pregnancy. The course was very functional and easy to navigate.'
- Mikhala, Victoria, Australia
'I really enjoyed this Online Prenatal Yoga Teacher Training course. I found it sparked a real desire towards supporting women in this way which I will take further. It took me longer than planned to complete the course simply as life got in the way but the great thing about distance learning is that it accommodates this! I feel I will be able to apply the knowledge I have gained right away! I think the combination of videos / audios / lectures was beneficial as hearing a voice /seeing a visual helps you feel really connected when distance learning. The emphasis on safety and on how to work with a range of conditions personally helps me feel adequately prepared to capably teach too. The practicals are excellent as getting an idea of how a pregnant woman would move through class is so important. The manual is clear and concise, and a great reference to have. I loved the assignment! It made me feel excited to teach and it was useful to be asked to make these considerations. Feedback from Kanako (during the Skype session) was constructive and made a lot of sense. The Skype meeting was a really solid way to round off the course as the conversation was really helpful and advice much appreciated! When it came to communicate with Kanako about our session this happened really efficiently even though we had a big time difference to work out. The course format was easy to understand, I had no issues accessing using my mobile or laptop which was really helpful, and I liked the structure of subject areas.'
- Rachel, UK
'This online course was thorough, professionally delivered, well presented and thoughtful. I was very impressed by the teachers – all so caring, sensitive, professional, thorough, compassionate, well-informed, experienced and wise.'
- Susan, ACT, Australia
'This course included really practical information that I will be able to apply not only in my prenatal classes, but in all public classes as there are often pregnant women who attend these. The online learning format was user-friendly and well structured. I feel 100% confident in my ability to apply the skills I have gained from this completing this course, in my teaching. I love that there are visual, auditory and practical elements - this kept me engaged. I found the handouts which categorised poses as either strengthening, releasing etc to be super helpful and a great quick guide - I will definitely refer to these when tailoring my classes to suit the unique needs of students. I loved the Skype at the end of the course - Star is wonderful and supportive!!! Her feedback was really helpful.'
- Eve, Melbourne, VIC, Australia
'I have been a Clinical Pilates instructor for 13 years and have completed countless exercise science / physio / training courses on prenatal and postnatal work, but i found your course taught me things I have never learned or been aware of previously. It was wonderful. Thank you.'
- Jennifer, United Arab Emirates
Purchase Options
Choose from the purchase options below—stand-alone or bundle options
All prices are in Australian dollars and include GST for Australian residents.
Your payment will be processed securely through PayPal or Stripe. Pay via Credit Card (check-out as a guest – no PayPal account required), or via your PayPal account.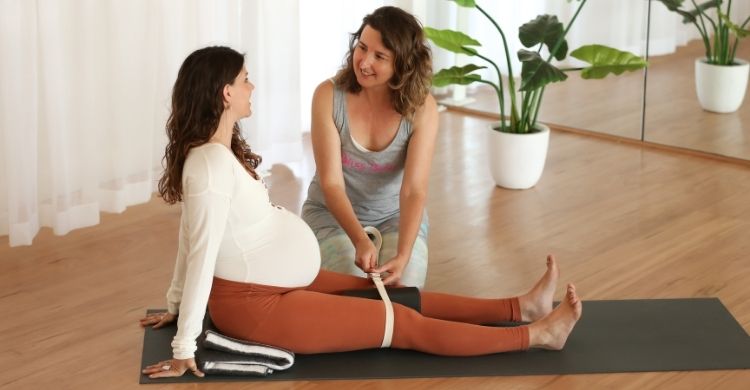 Stand Alone:
$430.00 AUD
You receive:
ONLINE PRENATAL YOGA TEACHER TRAINING COURSE
ENROL
ENROL 2 X $220 PAYMENT PLAN
Prenatal & Postnatal:
$635.00 AUD
You receive:
ONLINE COMPLETE PRENATAL & POSTNATAL YOGA TEACHER TRAINING COURSE
ENROL
ENROL – 3 X $205 PAYMENT PLAN
Prenatal Yoga Teacher Bundle:
$549.00 AUD
You receive:
ONLINE PRENATAL YOGA TEACHER TRAINING COURSE (AU$430)
Prenatal and Postnatal Anatomy & Physiology Extension Module (AU$59 – special bundle price)
Pelvic Floor Anatomy & Physiology for Women's Health Module (AU$60 – special bundle price)
ENROL
Prenatal Yoga Teacher & Doula Bundle:
$1250.00 AUD
(or 3 x $425 Payment Plan)
You receive:
ONLINE PRENATAL YOGA TEACHER TRAINING COURSE (AU$430)
ONLINE DOULA TRAINING (AU$820 – special bundle price)
ENROL
ENROL- 3 X $425 PAYMENT PLAN
Register and pay the full course fee, or select a payment plan. You can pay securely online via Credit Card or PayPal. (Note: that you don't need your own Paypal account, you can pay via 'guest checkout' if you select this option).
Once your payment has been confirmed, you'll receive an email with your log-in details and a direct link to go ahead and log-in. (You can also always log in directly on our website using the "Log In" link in the top right hand corner.)
If this is not your first purchase on our site, you'll receive a reminder email with your log in details for the account you already have with us. Once you log in to the site, you'll be directed to your member page where you can access your course and get started!
(Note: if you have previously purchased other courses or classes with us, you'll be able to conveniently see and access all of your courses here in the member section of the website)
Enjoy the learning— a juicy mix of video and audio lectures, video demonstration classes, and a slew of informative and inspiring reading and notes!
You can work at your own pace, and because we appreciate that you may be busy juggling teaching, parenting, and/or other work with your study, you have one full year from your date of enrolment to access and complete our courses and download all resources included within the course to keep forever for future reference. Our courses are designed to fit around your busy life.
Navigating your way through the course is simple and easy, but if you have any questions or issues at any time, we are only an email away!
In addition to homework tasks and extension reading/ viewing, after each module of the course you will be required to complete a short quiz that helps you consolidate your learning.
Once you've completed all of the course modules, you'll reach the Case Study Assignment section of the course. This is a fun, rewarding exercise that helps you pull all the key knowledge together about safely teaching pregnant and postnatal students with specific therapeutic needs.
Complete the Case Study in your own time and then simply upload your assignment through the website. One of our teachers will mark it and return it to you.
5: Completion Certificate
After  receiving back your certificate you'll be prompted to complete a Feedback Form on the website and then, congratulations! You're done! You will receive your course Completion Certificate that you can either print out or keep digitally to send to registration bodies (eg: Yoga Alliance / Yoga Australia) to gain all-important CPD (Continuing Professional Development Points). And you will then be ready to confidently and safely teach prenatal and postnatal yoga students.