Live Ongoing Prenatal and Postnatal Yoga Mentoring Program
PURCHASE
Who is this Live Mentoring Program for?
This ongoing live monthly program of interactive sessions is open to all current Bliss Baby Yoga students as well as graduates. In fact, you don't need to be enrolled in any other course with Bliss Baby Yoga to join us for these classes.
You might be pregnant or have recently had a baby and be looking for live online classes with highly experienced teachers. You do not need to be a yoga teacher/trainee to enrol in these classes. We do recommend however that you practice the sessions that are appropriate for where you are in your journey and practice the recordings later for the ones that aren't (eg if you are pregnant, we don't suggest practicing the postnatal classes).
This package is also for you if you wish to deepen your teaching skills and confidence in the specialised area of Prenatal and Postnatal Yoga Teacher Training.
If you have a teaching strategy you'd like some feedback and support on – a sequence, choice of postures, and so on. Or perhaps you'd like to chat about a particular student case-study to get some tips on how to best work with them. You will have time to ask such questions in the Q&A at the end.

Maybe you'd like some additional opportunities to connect with our facilitators, your peers and extended community for support, questions, connection and inspiration as you complete our Prenatal and Postnatal Yoga Teacher Training course.
You're not alone!!
This Prenatal/Postnatal Bloom Live Mentor Program is designed to inspire Prenatal and Postnatal Yoga teachers / trainees, who are just launching into teaching in this specialised area of yoga and need some help to get started, through to those who have been teaching for a while and would like some advice from experienced teachers to help take their teaching to the next level!
NADINE O'MARA
Nadine O'Mara (E-RYT 200, RPYT, YACEP, Yoga Australia Lvl 3 Teacher, DONA Certified Doula) is an experienced prenatal and postnatal yoga teacher, doula, and our Bliss Baby Yoga Director who is passionate about supporting women's health, especially around birth.
Nadine  began her journey teaching yoga in 2005 and with time channelled this into teaching yoga for pregnancy, preparation for child birth and yoga for the postnatal period, having run classes both in Australia and the UK.  She sees teaching prenatal and postnatal yoga as such a unique gift – supporting students at their most vulnerable time. Sensitivity and understanding is key to your teaching.
In addition to sharing her knowledge in our Bliss Baby Yoga online courses and content, Nadine has run her own business Conscious Birth  for almost ten years in Sydney and now in Bellingen, NSW Australia.  Nadine provides doula support and yoga as well as prenatal yoga teacher training, birth education, self care and restorative yoga workshops for mothers, facilitates mother's circles, family yoga and retreats for women and/or families. She is most importantly a mama to two girls who get on the mat with her when they can.
Nadine has a wealth of experience to share with newer and trainee teachers in the area of pregnancy and birth and in running a feminine centred business.  She believes that teaching pre and post natal yoga helps facilitate a gentle birth and the creation of positive family life.
Nadine's specialisations:
Prenatal Yoga
Mother & Baby / Postnatal Yoga
Restorative Yoga
Family Yoga
Running your own yoga business
Running birth workshops
Women's circles & workshops for new mothers
Nadine is also a co-presenter for our Bliss Baby Yoga Online L2 Yoga for Fertility Teacher Training course and our Online L2 Restorative Yoga Teacher Training course.
KANAKO YAJIMA
Kanako Yajima (E-RYT 500, RPYT) has long been a dedicated yoga student, teacher, and teacher trainer. She is very passionate about supporting women at all stages of their lives by sharing yoga practices that are individually relevant and accessible.
She has been trained in various styles of yoga including Solomon Yogalates, Ishta System with Rachel Zinman, and Vini Yoga and the Five Element Form with Peter Clifford. She worked closely with late Maria Kirsten whose amazing passion and work have inspired and continue to inspire the way Kanako works with her own body and with her students.
Kanako has also worked internationally in many teacher trainings, retreats and workshops as both interpreter (for Japanese groups) and as a teacher trainer.
Thanks to her experience as a yoga translator/interpreter (between Japanese and English) and her dedication to knowledge and growth, she has been immersed in various teachings including yoga philosophy, anatomy and physiology, pranayama and meditation, and her versatile and unique teaching styles reflect that extensive knowledge and experience.
Kanako is grateful everyday for being a mother to her daughter as it has been the most challenging yet beautiful and transformational yoga sadhana in life, and she loves sharing the magic of yoga practices with students from that heart-felt space.
Kanako's specialisations:
Yoga for pregnancy
Postnatal Yoga
Breath-centred Yoga
Mindful movement
Restorative Yoga
Accessible Yoga
Kanako is also a Senior Course Facilitator for our Bliss Baby Yoga Online Prenatal & Postnatal Yoga Teacher Training course.
STAR DESPRES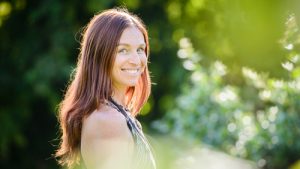 Star Despres is a devoted yogini, practising since she was 19 and teaching since 2006. She is a Senior Byron Yoga Centre qualified Teacher and Teacher Trainer and has been facilitating Bliss Baby Yoga teacher training courses since 2010. Star's passions rest in empowering women to reconnect with the Divine Feminine, no matter what stage of life they are in, and assisting them to find a more nurturing, embodied, sacred and devotional approach to life. She especially loves to support women through pregnancy, the postnatal period, perimenopause, menopause and times of exhaustion and depletion via the practises of Restorative Yoga, Feminine Embodiment, Mindfulness and daily Self Care rituals.
Star is also the founder of Way of the Wise Woman, a devotional sanctuary honouring the Feminine and offering private mentoring, sessions, retreats, workshops and circles to inspire women to reclaim their power, awaken the wise woman within and reconnect to their authentic feminine essence. Her greatest role is as a mama of 2 daughters (17 years apart), and continues to fine tune the balance of service and Mamahood whilst also honouring her own needs and daily practise.
Star's Specialisations:
* Prenatal yoga
* Postnatal yoga
* Restorative yoga
* Yoga for Women's Health
* Feminine Embodiment Practises
* Womb Connection + Healing Practises
* Self-care practises / yoga
* The art of creating and holding safe space
* Running women's workshops
*Sequencing your women's yoga class
Star is also a Senior Course Facilitator for our Bliss Baby Yoga Online Prenatal & Postnatal Yoga Teacher Training course and Online L1 Restorative Yoga Teacher Training course.
TANYA NEATE
Tanya Neate has been specialising in yoga for women's health since 2013. Running private yoga therapy and group yoga classes for women at all stages of life, but especially for those experiencing fertility issues, and prenatal and post-natal clients. Tanya has extensive training in Hatha yoga. She has also completed the Bliss Baby Yoga Prenatal & Postnatal Yoga Training and a 4-year Yoga Therapy Certification in the tradition of Krishnamacarya.
Complementing her work as a yoga therapist, Tanya is also a certified and registered counsellor and loves the way these two modalities intertwine.
Traveling with students from preconception all the way through to having them bring their bubs to "Baby & Me" yoga classes is an incredible journey, and the power of yoga to support this time of life always leaves Tanya in awe and feeling blessed to do this work.
BETH IVY BUXTON
Beth Ivy Buxton is a mother of three, registered Prenatal Yoga Teacher (RPYT), Registered Children's Yoga Teacher (RCYT) and Registered Arts Therapist. She is passionate about helping others to thrive through yoga and movement, knowing first hand how powerful and supportive it can be.
Beth has worked in the space of Prenatal and Postnatal wellbeing for almost 20 years. She currently teaches prenatal, postnatal and children's yoga in 1:1 and in private group settings, along with integrating yoga and movement as an integral part of her Arts/Movement Therapy practice. She's been a keen practitioner of yoga since 2001 and you can find her at Wildflowers Creative Arts.
What past Bliss Baby Yoga online mentoring class participants say:
'Without question, the mentoring sessions were of great benefit toward learning the material and becoming a better yoga teacher. The live sessions were a nice way to bring the online training to life. I enjoyed being a part of a group and looked forward to our monthly meetings. Bliss Baby Yoga exceeds my expectations. This community is exceptionally endowed with knowledge and wisdom. Without any doubt, I am entering the yoga studio confidently prepared for my prenatal and postnatal classes.'
- Renee, Live Online Mentoring Masterclass Sessions
'My online mentoring session with Star was fantastic, and exactly what I needed at that time. She held space for me to express my fears and concerns about my teaching, and was able to offer some really helpful tools to get me over the hurdle. I went from feeling totally anxious and unable to see the way forward, to being strong and confident in my knowledge, clear on how I would like to teach moving forward, and excited to step into class to teach my upcoming Prenatal Yoga series. Such a beneficial session.'
- Nikki, NSW, Australia
'From my first mentoring session with Ana, I could tell that she was excellent at picking up on the subtle cues of my personality and adapting her questioning and discussion to where I was currently at on my yoga teaching journey. Before and after every session, she had always taken some time for consideration, which meant our sessions were always productive and I walked away with a clear plan and goals to work towards before our next session. Over six sessions, I have gone from having a messy cluster of ideas to having successfully streamlined my yoga business and feeling confident in the direction I am moving to share yoga with women. I now have some exciting online programs and resources moving towards completion / fruition.'
- Claire, TAS, Australia
Purchase Options
Choose from the purchase options below—stand-alone or bundle options
ALL PRICES ARE IN AUSTRALIAN DOLLARS AND INCLUDE GST FOR AUSTRALIAN RESIDENTS.
Ongoing Prenatal & Postnatal Mentoring Program – 12 months membership
$120.00 AUD
You receive:
Access for 12 months to monthly 1.25 hour live sessions via Zoom + Recordings
Downloadable recordings of sessions.
ENROL NOW
Prenatal & Postnatal YTT + Live Ongoing Mentoring Bundle
$695.00 AUD
You receive:
Ongoing Prenatal & Postnatal Mentor Program – 12 months membership ($110 – special bundle price)
Downloadable recordings of sessions.
ENROL NOW
ENROL NOW – 3 X $238