Prenatal & Postnatal Anatomy & Physiology Extension Module
Learn from two highly experienced and passionate Bliss Baby Yoga Trainers, Lisa Fitzpatrick and Jennifer Allen, in this package of specialised online lectures that will consolidate and enhance your knowledge in prenatal and postnatal yoga therapy.
For many yoga teachers and practitioners the science of anatomy and physiology can be daunting, perplexing, or just plain boring. Not so with Anatomy and Physiology specialists, Lisa and Jennifer. These two experts bring this often dry subject to life, making it interesting, easy-to-understand, and enjoyable!
Enjoy a total of four hours of informative online lectures that are jam-packed with both the theoretical and practical understanding of the female pelvis and lower back structure and function in pregnancy and post-partum.
This extension module will enhance your understanding and skills in working confidently, and most importantly, safely with your pregnant and new mother yoga clients.
2+ hrs content over 3 x Online Video Lectures with Physiotherapist and Yoga Teacher, Lisa Fitzpatrick: "Prenatal & Postnatal Yoga Therapy A" with accompanying powerpoint handout (includes clear diagrams and key treatment recommendations).
2 hrs content over 2 x Online Video Lectures with experienced pre & postnatal Yoga Teacher and Teacher Trainer, Jennifer Allen: "Prenatal & Postnatal Yoga Therapy B" with accompanying detailed handout (includes 4 x beautifully illustrated prenatal & postnatal case study sequences).
Bonus notes on yoga for prolapse by Bliss Baby Yoga Director Ana Davis.
Final quiz to test your knowledge of the content included in the course.
Course comprises 5 non-contact hours in total, which can count towards required CPD (Continuing Professional Development) hours for Yoga Alliance and Yoga Australia members (certificate of completion issued upon completion of the final quiz).
Because we understand that you're fitting this course around other commitments that may include yoga teaching, working, or being a mother, you have 12 months to complete this course, and the information and resources in this course downloadable (yours to keep forever). How you pace your study-load, that's up to you, and what works best for your lifestyle.
In this special extension module, deepen your understanding of the following elements of prenatal and postnatal yoga therapy:
Anatomy and physiology of the female pelvis—bones and joints of the pelvis, and the key pelvic floor muscles; includes a deeper understanding of pelvic floor toning and breath-work.

The esoteric physiology of the pelvic and abdominal areas—bandhas and chakras and mind-body connection.
Key abdominal and core muscles—"the cylinder of control"
Recognising and treating the common prenatal/ postnatal conditions of:

Sacroiliac Joint Dysfunction (SIJ)
Symphysis Pubis Diastasis (SPD)
Diastasis Recti ('split abdominals')
Sciatica and Piformis Syndrome
General lumbar pain
Overview / introduction to Prolapse, Pelvic Floor conditions and the effect of breastfeeding on the pelvic floor (this topic is covered in greater depth in our Online Pelvic Floor Anatomy & Physiology for Women's Health module)
Prenatal & Postnatal Case Studies—applied anatomy and physiology for specific case studies drawn from real-life scenarios; includes sample postures and sequence that are safe and appropriate for common prenatal and postnatal back and pelvic conditions. Jennifer also looks at the related emotional and lifestyle factors.
Jennifer shares her wealth of wisdom and experience around offering safe, mindful postures and breathing practices for specific, real-life scenarios (drawn from her own teaching experience).
Jennifer generously shares a slew of practical prenatal and postnatal teaching-tips, including ways to incorporate the yoga props to enhance the therapeutic benefits of the recommended postures.
Once you've enrolled and your payment is confirmed, you'll be sent an email with your log-in details to log into our special student section of the website where you can get started with your course. 

Our Anatomy & Physiology Extension Module is easy to navigate—it's all clearly laid out and you don't have to be a 'techy' person to figure it out!
This extension module consists of 2 modules with a short quiz after the second module.  The quiz is designed to help you consolidate the knowledge we share with you. An 80% pass mark is required, but don't worry, the quiz is multiple choice/ true-false and you can re-do it as many times as you need to.
Once you've reviewed all the content and passed the quiz, you just need to give us your feedback (your feedback is sooo important to us!) and then you'll receive your Completion Certificate that you can either print out or keep digitally to send to registration bodies (eg: Yoga Alliance / Yoga Australia) to gain all-important CPD (Continuing Professional Development Points).  The hours on your Completion Certificate for which you'll be able claim CPDs are 5 hours.
A Completion Certificate (PDF electronic file) is provided once you've completed the course. The total course hours on this completion certificate is 5 non-contact hours.
Members of both Yoga Alliance and Yoga Australia are required to complete ongoing professional development to keep their membership current. By completing our Bliss Baby Yoga Online Extension Modules, teachers are able to accrue some of these necessary professional development hours as well as enhance their knowledge and skills in this specialised area of women's health.
(The following information re: Yoga Australia and Yoga Alliance requirements for CPD was true at the time of publishing – please check the Yoga Australia and Yoga Alliance websites via links below to confirm their requirements).
For Yoga Australia members, 12 CPD points (Continuing Professional Development) must be accrued each year to keep your membership active. These can be accrued through contact or non-contact hours of study. Our Online Prenatal and Postnatal Anatomy & Physiology Extension Module is non-contact study, however as our course includes an assessment component (online quiz), for Yoga Australia members (as per their Continuing Education Policy) the hours spent completing our course are counted as contact hours, core to yoga teaching (1 point per hour). This Online Extension Module is 5 hours, so Yoga Australia members will accrue 5 CPD points.
For Yoga Alliance members, according to their Continuing Education Requirements, every 3 years starting from your initial date of registration, each RYT and E-RYT must complete and log a minimum of:
45 hours teaching yoga, and
30 hours of yoga related training that is directly related to one of the Educational Categories, of which:
Our Online Prenatal and Postnatal Anatomy & Physiology Extension Module (5 non-contact hours) can therefore cover 5 of the 20 non-contact hours of study and contribute to these CPD requirements.
PLEASE NOTE that our Bliss Baby Yoga training courses are designed as post-graduate study for qualified yoga teachers, and are not alone designed to qualify graduates to teach prenatal / postnatal yoga classes to the public if they are not yet a qualified yoga teacher (having completed a minimum Level 1 / 200 hr Yoga Teacher Training).
The pre-requisite to enrol in our courses is at least 6-12 months consistent prior yoga practice experience – so that you are familiar with the basic postures / practices / terminology and can therefore gain the most from this training. We strongly recommend undertaking a 200 hr Yoga Teacher Training in addition to our specialised teaching before teaching any public classes, so that you can be insured as a qualified yoga teacher. This Extension Module is recommended to be taken in conjunction with or following completion of our Bliss Baby Yoga Online Prenatal & Postnatal Yoga Teacher Training course or equivalent study.
FAQ: Is this course registered with Yoga Alliance?
While there isn't currently a facility for this online course to be registered with Yoga Alliance, our school and teachers are. Bliss Baby Yoga is a Yoga Alliance RPYS (Registered Prenatal Yoga School).
Lisa Fitzpatrick (module facilitator): Physiotherapist, and E-RYT 200 (Experienced Registered Yoga Teacher), YACEP (Yoga Alliance Continuing Education Provider)
Jennifer Allen (module facilitator): Yoga Therapist and E-RYT 500, YACEP and RPYT (Registered Prenatal Yoga Teacher).
Ana Davis (school director & lead facilitator): E-RYT 500, RPYT, YACEP
The certificate of completion presented upon completion of this course will include our RPYS and YACEP registration stamps, as well as a breakdown of the hours per Educational Category for Yoga Alliance continuing education.
FAQ: Can I get RPYT (Registered Prenatal Yoga Teacher) registration with Yoga Alliance by completing the Online Prenatal Yoga Teacher Training course / Extension Modules?
Unfortunately Yoga Alliance RPYT (Registered Prenatal Yoga Teacher) certification cannot be achieved through distance or online education, such as our Online Prenatal Yoga Teacher Training course, as there is a requirement of at least 75 contact hours of study (face-to-face training with a certified teacher). Any hours of study completed via distance / online are considered 'non-contact' hours.
Upon completion of our online training, graduates are issued with a Completion Certificate- noting the hours and content completed, and bearing our Yoga Alliance RPYS (Registered Prenatal Yoga School) stamp. This certificate can be submitted for CPD (Continuing Professional Development) points for your Yoga Alliance / Yoga Australia membership.
Read our responses to further frequently asked questions here.
Read more about accreditation here.
For answers to Frequently Asked Questions about our Online Extension Module course delivery and accreditation, including the following, please click here.
PURCHASE
Who is this course for
This module offers valuable professional development for already qualified prenatal and postnatal yoga teachers, helping deepen your knowledge and practically applicable teaching skills.
This module is also an ideal complement to the Bliss Baby Yoga Online Complete (Prenatal & Postnatal) Yoga Course as it extends upon the information covered within this course.
This module may also be of interest to experienced pregnant or postnatal yoga practitioners seeking extra understanding of their own prenatal/post partum bodies and how yoga can support them.
And it may also be of benefit to women's health workers in related fields—eg: midwives, physiotherapists, massage therapists.
Lisa Fitzpatrick
Lisa Fitzpatrick is a physiotherapist, best selling author, mother of two, yoga teacher, yoga teacher trainer (specialising in Anatomy & Physiology), and business coach who revels in supporting women to find their soul purpose. Lisa is a sought-after Anatomy & Physiology teacher, featuring as a specialty presenter on yoga teacher training courses throughout Australia.
Lisa has over 20 years experience working with people to improve health by promoting Mind-Body awareness. She has a specialised interest in women's health, well-being and spiritual consciousness, and has a talent for making complex anatomical concepts simple and fun. As the founder of Sacred Women's Business, a coaching and training business, Lisa provides coaching for intelligent and conscious entrepreneurs with a legacy.
Kind words about Lisa from our graduates:
"Lisa is so inspiring! She is so knowledgeable, an excellent presenter, and a beautiful person inside and out. I would love to spend more time learning from Lisa."  – Prue Stone
Jennifer Allen
Jennifer Allen is an E-RYT 500 / RPYT certified yoga teacher and yoga therapist, and teaches a variety of classes in Vinyasa Flow, Yin Yoga, Prenatal & Postnatal Yoga, Yoga Therapy and mat/reformer Pilates. Jennifer has worked as a Senior Bliss Baby Yoga Prenatal, Postnatal and Restorative Yoga course facilitator, and teacher trainer for Byron Yoga Centre Yoga Teacher Training courses in Australia and internationally. Jennifer now facilitates her own Jayayoga 200 hr and 300 hr YTT courses through her studio in Auckland, New Zealand.
As a mother of two, Jennifer has experienced first-hand the many benefits of a regular yoga practice to support her through the amazing journey of pregnancy, birth and motherhood, and is keen to share her knowledge and experience.
Kind words about Jennifer from our course graduates:
"Jennifer Allen is a wonderful facilitator, woman, friend, yogi and Mum! As a yoga teacher I will now feel more confident with pregnant clients." – Jennifer Riley
ANA DAVIS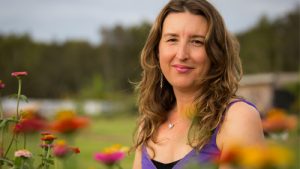 Ana Davis (E-RYT 500, RPYT, Yoga Australia Registered Level 3 Senior teacher, qualified Doula, Dip. Remedial Massage, B.A. Honours) has long been passionate about exploring the benefits of yoga and meditation for women's monthly and life cycles.
Ana has been a keen yoga practitioner since 1990, teaching yoga since 1996, and in 2005 founded Bliss Baby Yoga – offering specialised yoga teacher training courses in the areas of Prenatal, Postnatal, Restorative and Women's Yoga. In 2013, Ana also founded Moving with the Moon which offers workshops and classes on yoga for the menstrual cycle, menopause and fertility.
Ana is currently writing her first book, "Moving with the Moon: Nurturing Yoga, Movement and Meditation for Every Phase of your Menstrual Cycle", due for release in 2018.
Ana, a mother-of-one, is passionate about sharing the benefits and joys of yoga for every stage of one's life journey.
Kind words about Ana from our course graduates:
"Ana's knowledge is amazing and she is able to convey it to students. I felt I was in good, capable hands." – Julie
What past course participants say
'We live in the age of information, but I feel like women and yoga teachers aren't getting enough of the right information. I live in the U.S. and I can tell you that this is NOT talked about nearly as much as it should be among yoga instructors or just women in general. I love the online platform and being able to learn anywhere that I have an internet connection at any time. I think the overall presentation of the material was easy to digest and will be easy to incorporate into my classes. As far as my personal practice goes, even though I'm now 4 months postnatal, I feel like I can recognize more about my body than before. Thank you so much for sharing your time and knowledge with us!'
- Jeana, USA
'I am currently 20 weeks pregnant an decided to take this course to further understand the changes that my body is and will be going through and to supplement my prenatal yoga teacher training that I completed four years back. This course did not disappoint, I truly enjoyed both modules, and having the case studies really helped. Both teachers were very clear with their explanation and showed their enthusiasm in the subject matters.'
- Amani, Brunei
'This course gave me such a deeper understanding of how to provide a safer practice with particular pregnancy related complications. I feel sooo much more confident in the variations I am able to offer these women and also a deeper understanding on the conditions themselves. I have already started to put it to practice and am seeing great results in how the women are feeling after practice but also their confidence in how to manage discomfort outside of class. I really loved the content – Lisa and Jennifer are incredibly knowledgeable! I would be very happy to continue to study any more courses they are running.'
- Jennifer, NSW, Australia
'The information provided in this module was very detailed. I was able to follow along and understand completely the WHY of how we teach. I really enjoyed the case studies. Lisa and Jennifer are both beautiful. Thank you for your knowledge.'
- Heidi, USA
'I found this course practical and accessible. I believe I will be able to apply the knowledge into my own teaching and feel confident I can provide women with a safe space to practise depending on their needs. I really enjoyed the information given and thought it was really helpful to be able to print off the powerpoint and make notes as the discussion went on. I thought both teachers were very informative.'
- Jasmine, VIC, Australia
'I loved this course! As a prenatal yoga teacher, some of these issues have not been addressed in other trainings. I realized that I probably had a mild to moderate case of SPD during my pregnancy, which is why yoga felt bad to me during that time. 10 months postpartum, I still have symptoms of SPD so I am now applying sequence suggestions from this course. I feel that I am now better able to serve and help pregnant and postpartum women. Looking forward to taking more courses with Bliss Baby Yoga.'
- Sarah, USA
'Amazing speakers and I feel so inspired and filled up after listening to these passionate women speak on topics they clearly love as well as being knowledgeable in. I'm currently teaching in a small rural area and often get mums joining us after baby (new and long term students). I definitely feel I have a few more tools and am now more aware of ways of guiding them in their yoga practice after baby.'
- Felicity, New Zealand
'I thought the course was very well done, thoughtful and helpful. At present, I teach general yoga classes and often pregnant and post-natal women come to class thinking general classes will be good for them. I try to give them some general guidelines for safety. Through the coursework, I am now more knowledgeable and will be better able to keep them safe. Both Lisa and Jennifer were very engaging and well-versed in the subject matter. Beautiful work.'
- Judy, USA
'I found this training excellent. Very informative, clear and concise. It was all very relevant for those of us teaching pregnant and postnatal women. I am in the UK and teach Pregnancy and Postnatal Yoga and have done for quite a few years. The course was a good balance of videos, articles and presentations. Having the supporting materials means that I can easily go back and refer to them in the future. This course is excellent as a refresh CPD even for those who have done extensive Prenatal and Postnatal Yoga teacher training. Lisa and Jennifer provided a very clear and excellent pace of teaching. Concepts were explained in a way that was easy to understand - even for those who find it hard to retain complex anatomy information. I was looking for a CPD to increase my knowledge and am so pleased I came across your website. I was not sure what to expect but took a chance on your training and am so pleased I did as it is amazing!'
- Sarah, UK
'Lisa is a fantastic presenter and delivery of information is well structured and her depth of knowledge and understanding clearly shines through. Jennifer's explanation and reasoning behind the benefits of poses on physical and emotional levels was very insightful and knowledgeable. I really appreciated her explanation as to why certain poses need to be modified or completely avoided in considering the contraindications in all case studies.'
- Barbara, Victoria, Australia
Purchase Options
Choose from two purchase options—stand-alone or bundled with the Online Complete Prenatal & Postnatal Yoga Teacher Training Course
This module also forms part of our Registered Prenatal Yoga Teacher (RPYT) Stream and can be purchased as a bundle for this here.
All prices are in Australian dollars and include GST for Australian residents.
Your payment will be processed securely through PayPal. Pay via Credit Card (check-out as a guest – no PayPal account required), or via your PayPal account.
Stand-alone:
$79.00 AUD
You receive:
Prenatal and Postnatal Anatomy & Physiology Extension Module
PURCHASE
Special Bundle:
$694.00 AUD
You receive:
Online Complete Prenatal & Postnatal Yoga Teacher Training course (AU$635)
Prenatal and Postnatal Anatomy & Physiology Extension Module (AU$59 – special bundle price).
PURCHASE
PURCHASE – 3 x $228 PAYMENT PLAN
HOW DO I ENROLL & GET STARTED?
Register and pay the full course fee. You can pay securely online via Credit Card or PayPal. (Note: that you don't need your own Paypal account, you can pay via 'guest checkout' if you select this option).
Once your payment has been confirmed, you'll receive an email with your log-in details and a direct link to go ahead and log-in. (You can also always log in directly on our website using the "Log In" link in the top right hand corner.)
If this is not your first purchase on our site, you'll receive a reminder email with your log in details for the account you already have with us. Once you log in to the site, you'll be directed to your member page where you can access your course and get started!
(Note: if you have previously purchased other courses or classes with us, you'll be able to conveniently see and access all of your courses here in the member section of the website)
Enjoy the learning!
You can work at your own pace, and because we appreciate that you may be busy juggling teaching, parenting, and/or other work with your study, you have one full year from your date of enrolment to access and complete our courses and download all resources included within the course to keep forever for future reference. Our courses are designed to fit around your busy life.
Navigating your way through the course is simple and easy, but if you have any questions or issues at any time, we are only an email away!
After completing the final quiz you'll be prompted to complete a Feedback Form on the website and then, congratulations! You're done! You will receive your course Completion Certificate that you can either print out or keep digitally to send to registration bodies (eg: Yoga Alliance / Yoga Australia) to gain all-important CPD (Continuing Professional Development Points).